In just 14 months, Lysaghts Oval has been transformed from a "totally derelict" site to a ground that will be the envy of the Illawarra Coal Cup.
The work has been done by Collegians Rugby League Club, which bought the site in November 2011 for $2.2 million.
The Figtree site had a chequered history. Mooted a decade ago as the home ground of the then Wollongong Wolves soccer team, after it was evicted from Brandon Park to make way for the Innovation Campus, the ground was never completed despite a $3 million government grant.
The NSW government considered legal action against the key players and also Wollongong City Council, which was trustee of the grant, but opted not to pursue the matter in July last year.
During this time, the oval fell into disrepair, so much so that Collegians chief executive Michael Wilkins joked that other rugby league clubs in the area "thought we were insane" when it bought the site in 2011. Mr Wilkins said it wasn't easy to see the site's potential at the time.
"[It was] absolutely derelict," he recalled. "Every wall under the grandstand was painted or smashed. The squash courts destroyed, the grass on the playing pitch was 6ft if not 8ft high.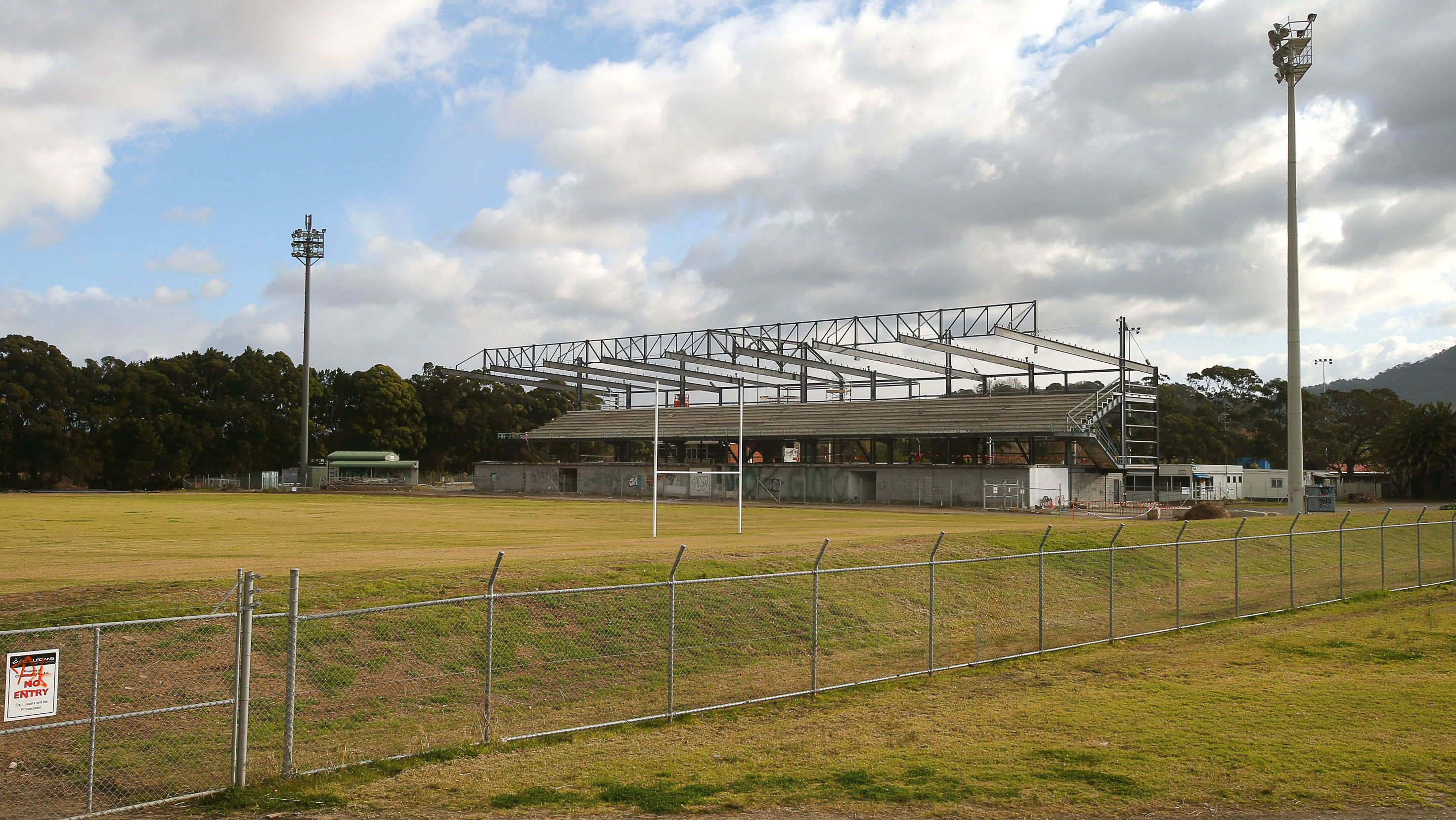 Before the renovations.
"There were four light towers sticking out of the grass and a quarter-built grandstand. Everything else was just a mess."
Now, 14 months and $4.2 million spent on the redevelopment, and Lysaghts Oval is gone. In its place is Collegians Sports Centre.
There is a football field with a 1250-seat grandstand and six corporate boxes, state of the art sound and lighting that is of NRL digital-TV standard and work is continuing on two mini mod fields.
The development also includes a new tennis and squash centre, a rebuilt Orb Bowling Club and a possible Anytime Fitness centre.
This weekend, the Collegians' first and second grade sides play on the ground for the first time - against Dapto.
After the renovations.
It's a special day for the club because it is its first real home.
"Collegians had never owned a home ground," Mr Wilkins said.
"They'd played on the showground in the old days, then showground No 2. Sometimes, they played at Vikings and the last couple of seasons has been at university.
"It had always been a dream of the board to invest in something like a home ground and the opportunity with Lysaghts coming on the market, we were able to bring that to fruition."