MERCURY SERIES - Saltwater Sanctuaries
On very hot days at Bellambi rock pool, the swimmers don't disperse with the day's light. They stay until after dark, when the blackness adds a new kind of magic to the delicious sensation of swimming in a protected little rectangle of moving, salty sea.
Swimmers mostly come from the local neighbourhood to this unfussy community melting pot, where everyone is as welcome as the tide.
Bellambi mums Amber Court and Courtney Dugan sit on the blue-painted steps to supervise their children in the water. They have struck up many conversations from this perch.
"There's always someone down here to talk to," Mrs Court said.
"Everyone sort of looks after each other's kids.
"The best thing of all is it's free."
Mrs Court wouldn't pay the $2.80 for each of her five children to swim at the region's conventional lane pools, but at Bellambi there are no turnstiles or gates.
In school holidays, the Courts walk the short distance from their Pembroke Mews home down to the pool's edge about 11am. They go home for lunch, and often return to the water in the afternoon.
Sometimes, they'll visit three times a day.
The family was there when a school of whitebait recently washed into the smaller pool - filling it suddenly with thousands of glimmering little silver figures.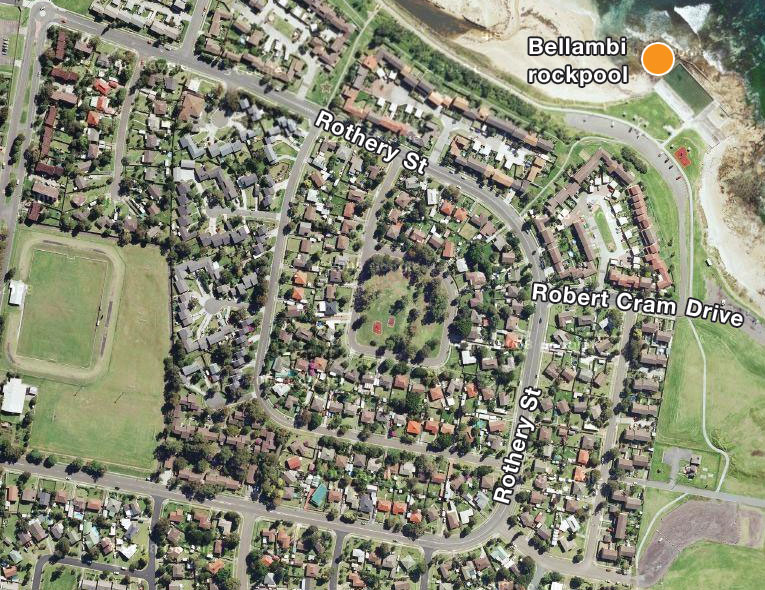 Neighbourhood kids came to marvel at the spectacle and the entrepreneurial ones scooped up great buckets of them to sell as bait to the local fish shop.
It was for children that talk of a Bellambi rock pool began in the late 1950s.
A community meeting at Corrimal High School in September 1958 heard that fewer than half of the 3500 children from schools between Bulli Pass and Fairy Meadow could swim, because there weren't the facilities for teaching.
A committee formed, and proposed building rock pools at Bellambi and Towradgi, to be fed twice a day by the tide, and to be used for swimming classes.
According to the South Coast Times report on the meeting: "It was stated that children north of Bulli Pass may learn to swim at Thirroul and Austinmer, but that the congestion in the two pools in those places creates unhygienic conditions on a summer day."
Construction of the Bellambi pool began in January, 1964.
Drilling and blasting of the rock bed was carried out by a construction company, at cost price.
Work could only be done at low tide, and residual water had to be pumped out before concrete could be poured on top of the natural rock bed.
The project came at a cost of $35,000, including $20,000 from Wollongong Council, $7700 from the Joint Coal Board and the balance from the Towradgi-Bellambi Pool Committee, whose members also contributed hundreds of hours worth of voluntary labour.
It opened on September 24, 1966 - two years and nine months after work began - at a ceremony marred by a heavy rainstorm.
In the early 1980s the Bellambi Residents Action Group campaigned over the state of the pool, described by spokeswoman Lyn Condran as "disgusting".
"There are dead fish, dead birds and bags of rubbish, including broken bottles, in it," she told the Mercury.
Over time, movement caused large cracks in the concrete slabs, and the pool was closed for several years for the first stage of a $400,000 repair project, reopening in 2010.
The pool is home to the Bellambi Bluebottles winter swimming club, whose all-male membership swims every Sunday in the cooler months.
Committed members who are away on a swim day are asked to provide photographic proof that they swam in an alternative pool that day, prompting at least one holidaymaker to submerge himself in a street fountain.
Library seeks ocean pool history
Whether they are early-morning lap swimmers, families with children, or office workers taking a lunchtime dip, Wollongong's residents are deeply attached to the city's ocean pools.
Of all the money-saving proposals put forward by Wollongong City Council's citizens panel, the suggestion that some of the tidal pools be ''run to fail'' drew the most negative responses.
The Mercury's series on these ''salt water sanctuaries'' has drawn a strong response from readers, with many sharing memories of their favourite pool.
Now the council library is calling on Mercury readers to pass on their knowledge of the ocean pools' history.
A council spokeswoman said while many of the pools were built in the early 20th century, often by local community groups, the council didn't assume care of them until 1947.
''Because council didn't build the majority of pools, our records on their history are quite sparse,'' she said.
''The local studies section of our library would welcome any information from the community about the history of our ocean pools.''
Anyone with historical knowledge of any of the pools is encouraged to call 4227 7414, email localhistory@wollongong.nsw. gov.au or visit the local studies section of the Central Library on Burelli Street.
Wollongong City Council looks after nine ocean pools: Coalcliff, Wombarra, Coledale, Austinmer, Bulli, Woonona, Bellambi, Towradgi and Gentleman's Pool, Wollongong.
Read more stories from this series